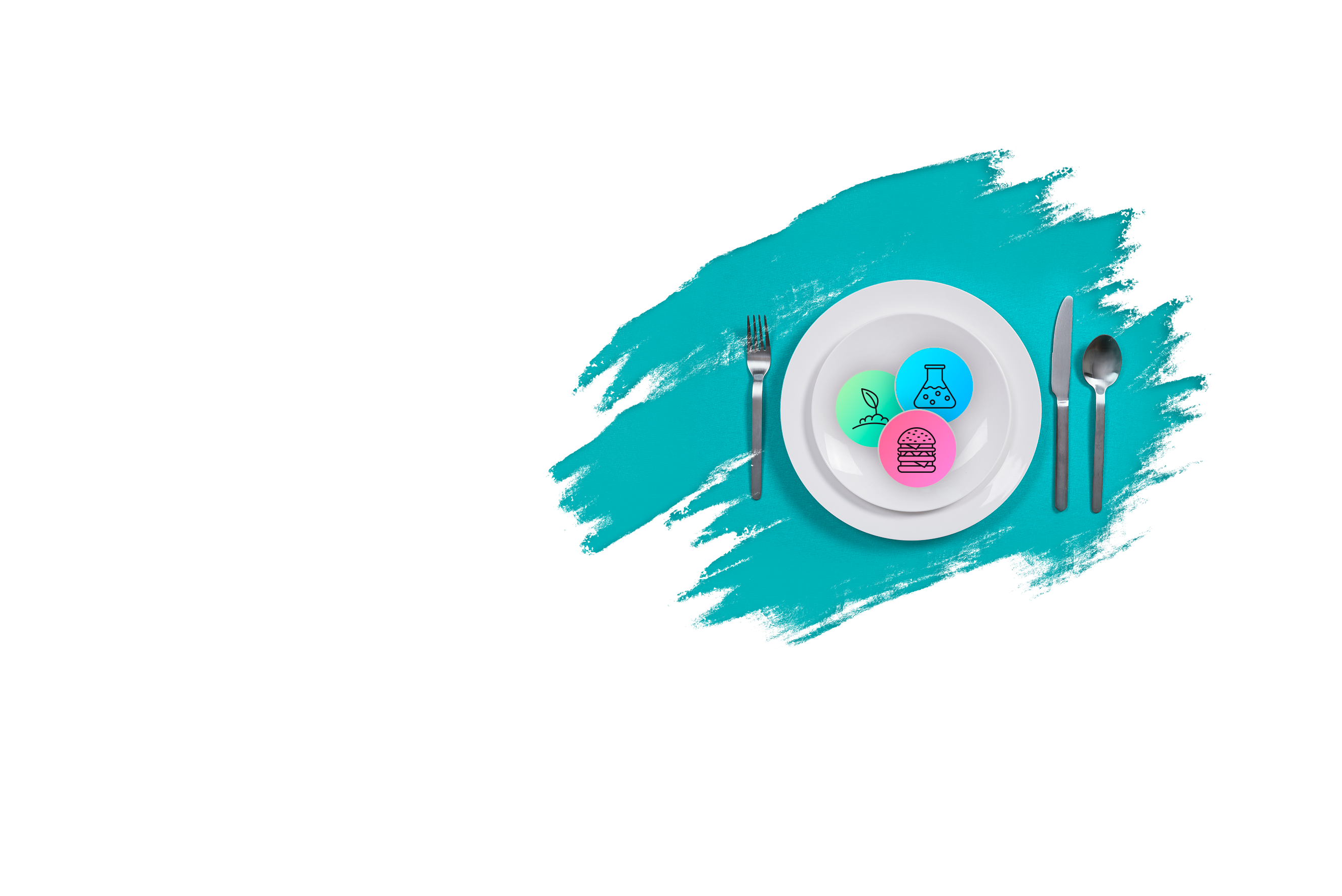 +++ CANCELED +++
New Food
The taste of tomorrow
LEARN MORE
What Defines the Future of Nutrition?
How will the production of food change?
Will meat, fish, eggs and milk products soon be produced in a lab?
What technologies are necessary to produce healthy food in a sustainable way?
And are these lab produced meals in fact healthier and more sustainable than natural, resource-saving alternatives?
What rules and regulations will we need?
The first EmTech Germany conference will give you answers to these questions. You can expect exciting presentations by international experts and receive important impulses on new food trends: meat alternatives, genetic engineering, consumer wishes and future potential – all independent, up-to-date and competent.
EmTech Germany is aimed at food manufacturers and retailers, representatives from the agricultural industry and food associations, manufacturers of food additives, food scientists, and representatives of biotechnology and pharmaceutical companies.
AGENDA
9:00 a.m. CET

Welcome

9:15 a.m. CET – Keynote

A technology-driven transition towards sustainable food: opportunities and risks in alternative proteins.

Liz Specht, Good Food Institute

Feeding the world in a sustainable way is one of the biggest challenges in the near future. How is food production changing – what stage of development have we reached with meat, fish, eggs and dairy products from the lab? Moreover, are they really healthier and more sustainable than a natural, resource-conserving diet? In our opening-keynote Liz Specht will shed light on these questions.

10:05 a.m. CET

Sponsored Talk (30 min)

10:55 a.m. CET

Cultured meat: From the fermenter to the table – The business with animal substitutes from the lab

Deepak Choudhury, Singapore Institute of Manufacturing Technology

Cultured meat, fish and other protein foods are not only recognized as sustainable alternatives to traditional agricultural products. They are – of course – also an economic factor. How much business is behind these alternatives and how will a market for them develop? Deepak Choudhury talks about the money behind the ideology.

11:20 a.m. CET

Alternative protein sources from plants, insects and even the air - is that enough to provide the food of the future?

Dr. Volker Heinz, Direktor & CEO, German Institute of Food Technologies (DIL)

Plant-based meat substitutes are already established – now, what other protein sources could satisfy our meat appetite in a meatless way? And which technologies underlie this new trend? Will our meat of the future really come from the fermenter or does the future belong to mealworms and crickets? Perhaps, we will simply eat up our atmospheric CO2 surplus? Volker Heinz knows the alternatives to the alternatives.

11:45 a.m. CET

How to produce and regulate culture technique: Meat without animals – How does it work and what is inside?

Prof. Kai Purnhagen, University of Bayreuth

Being able to eat something does not mean being allowed to eat it. When will meat, fish and milk alternatives actually be permitted to be called meat, fish or milk. When will they arrive on supermarket shelves? In Singapore, the first meat alternatives from the laboratory have been approved and can be eaten in restaurants. Kai Purnhagen knows what needs to be taken into account when regulating new foods.  What is allowed on our plates and what can it finally be called.

12:30 p.m. CET

Sponsored Talk (20 min)

12:50 p.m. CET

Lunch Break

13:30 p.m. CET – Panel Discussion

The meat processing industry is increasingly investing in alternatives

Laura Gertenbach, Britta Winterberg, Kai Purnhagen

What does the future of (traditional) agriculture look like?

14:35 p.m. CET

Deep Dives

Milk from the fermenter for cheese hunger in absence of cows (Britta Winterberg, LegenDairy Foods, Will van den Tweel, Those Vegan Cowboys)
Neither purely plant-based nor cultivated - are hybrids the future? (David Brandes, Peace of Meat, Laura Gertenbach, Innocent Meat)
Regulations around meat substitutes - what is inside and what is allowed on our plates? (Kai Steinmetz, University of Auckland,

Alexandra Molitorisová, University of Bayreuth

)

15:45 p.m. CET

Start-up Presentations

Meat, fish, egg
Mushroom based, protein from air, plant based cheese
SPEAKERS
Liz Specht, Ph.D.

Liz Specht oversees GFI's Science and Technology department to build a roadmap for accelerating alternative protein research while empowering scientists to execute on this vision.

Areas of expertise: plant-based meat, fermentation, technical analyses, forecasting and modeling, synthetic biology, public speaking.

Kai Purnhagen

Kai Purnhagen works in the areas of EU Law, international economic law and the interdisciplinary and comparative analysis of law. More recently, Kai has worked broadly and written extensively on various aspects of risk regulation in EU law, WTO law, and German law, with a focus on the implementation of findings from behavioural, economic and safety sciences into law and regulation. He is also (co-)editor of various outlets, most prominently of the forthcoming Oxford Encyclopedia on EU law and the Springer Science Series Studies in European Economic Law and Regulation.

Britta Winterberg

Following her academic career at the Max Planck Institute in Marburg and the Australian National University in Canberra, Britta Winterberg co-founded Formo in 2019. Together with her team of excellent scientists, she develops processes for the production of milk proteins using precision fermentation.

Dr. Volker Heinz

Dr. Volker Heinz studied process engineering and food technology and received his doctorate in 1997 on a topic of non-thermal process technology. During his time as an assistant professor at the TU Berlin, he coordinated numerous EU projects. Since 2006 he has been director of the DIL German Institute for Food Technology. He has published more than 200 peer-reviewed articles, book chapters and books, holds 20 patents and is a member of national and international committees and organizations.

Laura Gertenbach

Laura grew up in the agricultural business. Within her family business, she founded an organic meat business, a Christmas tree business, and a headhunter for MINT professionals. Laura believes machines and algorithms can help solve pressing environmental problems. She has a degree in Business Informatics with a focus on machine learning, AI & ERP systems, and a B.A in Business Administration.

David Brandes

David Brandes is the Co-founder and Managing Director of a listed Alt-Protein company. He has gained a decade of experience in consumer and food systems with Procter & Gamble, McKinsey & Company and Migros. His passion evolves around doing well by doing good. For the planet, for the animals, for innovation. David focuses on generating business opportunities whilst reducing human destruction of our planet, starting with the highest impact opportunity - our food system.

Alexandra Molitorisová

Alexandra Molitorisová graduated in Law and Jurisprudence at the Charles University in Prague. She took additional courses in the Biotechnology in Medicine Bachelor's Programme at the University of Chemistry and Technology in Prague (2013-2015). She practiced law first at a paralegal position (2010-2013), later as an associate (2015-2018) in international as well Czech law firms. She was a fellow at the Uppsala University and a research assistant at Friedrich Schiller University in Jena. She regularly advises the governmental bodies, European institutions, as well as NGOs and other organisations. She has work experience in Ireland, the Czech Republic, Belgium, Denmark, Sweden, Slovakia and Germany. At University of Bayreuth's Campus Kulmbach she pursues Ph.D. research into the consideration of benefits in authorization procedures of novel technologies. She is also involved in several projects involving the regulation of food innovations and alternative protein production.

Kai Steinmetz

Kai Steinmetz finished his Diplom (German equivalent to MSc) in biochemistry at the University of Frankfurt a.M. in 2016, working on multidrug efflux transporters from Escherichia coli. After learning of cellular agriculture and cultured meat, he sought for opportunities to get involved. He started his PhD in 2018 at the University of Auckland, funded by the Riddet Institute, and joined the New Harvest fellowship program in early 2019. His work under the supervision of Dr Laura Domigan focusses on methods for characterizing muscle stem cell behavior, and media formulations for the proliferation and differentiation of muscle stem cells for cultured meat applications.

Mark Leinemann

Mark Leinemann is co-founder and president of crowdfoods - the first transnational association for AgriFood startups and innovators in Germany, Austria, Switzerland and Liechtenstein. He was involved in various founding and startup projects - whether as a co-founder, consulting and agency partner or as an "ad interim development worker". As a coach and mentor, he passes on his experience from these projects to new founders and startups in the food sector.

Mark Leinemann's main job is MR. WOM has been one of the leading experts in German-speaking countries for Word of Mouth (WOM) and collaborative marketing as well as earned media since 2010. With his consultancy and agency of the same name, he develops strategies, earned media planning and carries out WOM and nano-influencer campaigns as well as training courses for startups, SMEs and large companies.

Nicolas Hartmann

As a passionate vegan, Nicolas studied nutritional science in order to understand the implications of food on health & performance. He was a nutrition coach for professional athletes and prior to that worked at Bain & Company and holds a Masters degree from the University of Oxford.

Willem Sodderland

25 years ago, Willem decided not to leverage his Law degree. He became a strategy consultant and then pivoted to become a serial entrepreneur. His specialty: kickstarting revolutions. Seamore is the latest: a company on a mission to turn seaweed, the healthiest and most sustainable ingredient on the plant, into great food. Hence the motto: Some seaweed, we seamore. Sofar, seaweed pasta, bacon, wraps, bread, chips and tuna have enriched European store shelves and restaurants. His 3 daughters and wife are constantly abused as guinea pigs for Willem's latest experiments. Seamore has won several international awards for innovation, great food, entrepreneurship and sustainability.
In-depth conference about new food

Fascinating talks by international experts

Three deep dive topics

Ask your questions in our online chat

Interact with other participants

Virtual attendance – from your own desk
SPONSORING
Are you interested in a partnership? Please contact us and benefit as a sponsor from our tailored packages.
We will gladly make you an offer!
Marcel Ossenkop // +49 (0)511 53 52 133 // marcel.ossenkop@heise.de